We've been working on a project to review and improve information for people starting a business. Earlier this year I joined the Government Digital Service (GDS) for a few days to focus on this new content.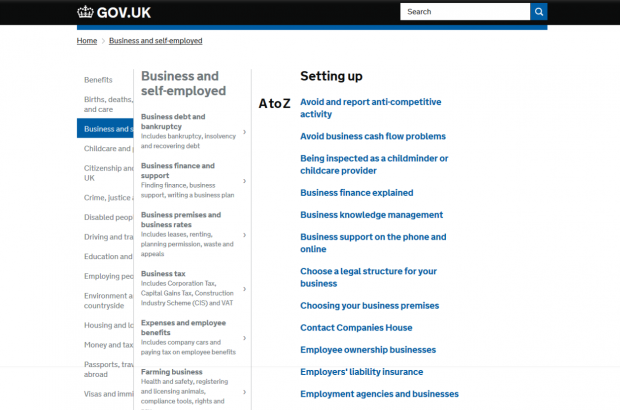 We knew that the starting point for people setting up a business could be improved. Feedback and data showed that the existing content was over-complex and fragmented, with no clear single entry point and several overlapping guides that served the same user need.
We also looked at data and performance reports from the Business Support Helpline. The majority of people who call the helpline want help setting up. Most people who call after they've visited GOV.UK said it was because they hadn't found what they needed, or needed help understanding and making better sense of the information. Based on this evidence and our own knowledge, we developed a list of user needs and tested our assumptions with user research. We'll be blogging more detail about our approach shortly.
Sprinting with other content designers
I work in a busy communications team here at the Department for Business, Energy and Industrial Strategy. My job is to make sure our digital content is simple and clear. I work with colleagues to make sure all of our guidance, consultations, reports and news stories are presented in a way that everyone can understand. I'm often found 'mini-sprinting' on our priorities for that day and week. Those who work in a similar communications role will know that things move at a fast pace. You can arrive at work ready to publish the thing you were preparing yesterday and it's all changed. Exciting, but sometimes it's important to make some space for a specific project.
Following a period of discovery, I joined content designers at GDS for a few days to redesign some business content. Historically, GDS has been responsible for how these words are presented on GOV.UK. My department has been responsible for its factual accuracy and making sure it's right. When you're united by your aims to meet real user needs who owns the content is irrelevant.
Making space to work together on this content, away from other distractions, meant we could focus on meeting these user needs. In a few days we drafted 2 pieces of content, improved the main browse page and search results, and identified other actions to improve the next steps in the user journey.
Avoiding rabbit holes
We'd done some 'cognitive walk-throughs' of our content. Using what we'd found from the user research, we put ourselves in the shoes of those people setting up a business. A common frustration we had was finding a page, identifying a link we thought was our answer and then being led to a series of pages (rabbit holes) to find the answer. We wanted to make sure our new content didn't do that. Based on the user research, we set ourselves some content principles and stuck to these throughout. For example, we know from data and research that users get overwhelmed by too many links on a page. So if we knew that a task they needed to complete (like registering for tax) would crop up in all possible onward journeys we didn't link to it.
Do the hard work so the user doesn't have to
Two pieces of content in a few days doesn't sound a lot for a few days work. However, these new pages were actually the result of planning, developing a structure based on the user needs, gathering source content, removing duplication and unnecessary content, writing and then refining.
Meeting the critters
You can't be precious about the content. It's not about you, it's about the real person trying to start their business. After many hours of unpicking and rearranging paragraphs and words we took a step back and let the 'critters' give us their thoughts. Once a week the GDS team host a 'critiquing' session. The 'critters', a group of talented content designers, came along to hear our objectives and look at the new content. They provided really useful feedback that helped us to improve the content further.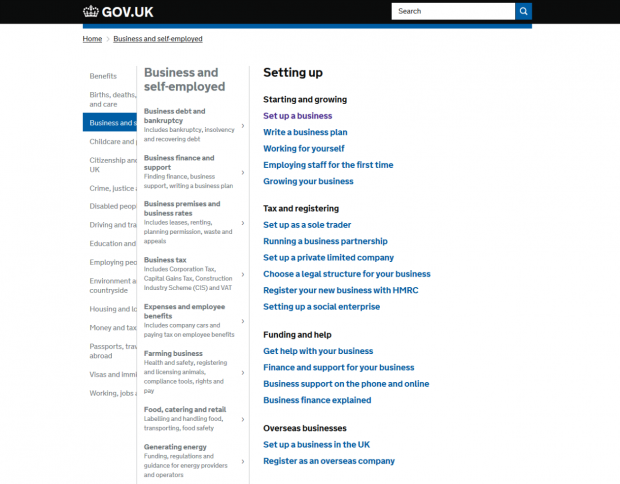 Work together and start now
We've published the new content and improved the browse page for 'Setting up a business'. That's not it though, we'll constantly evaluate the content and improve it. For me, the first success of this work has been being able to work together across organisation boundaries to get it done, rather than waiting for the perfect time. Don't wait, there will always be something.
We'll blog about our findings from user research and the details of our approach shortly.
---
Stay up-to-date by signing up for email alerts from this blog.