As 2014 draws to a close, it's a good opportunity to reflect on the last 'season' of activity to embed digital, and provide an update on our Digital Fortnight activities now that we've had the chance to have a full evaluation.
Digital Fortnight
As I said in a previous post, our second Digital Fortnight ran between 1 and 15 October this year. It was bigger and better in many ways than that of 2013:
more than 300 staff signed up to 35 events: you can see the calendar of events on offer in both London and Sheffield
we're delivering to busy people, so as is the way with these events, attendance varied but averaged out at around 53 of sign ups
amazingly, we vastly extended our reach as over 80% of sign ups were people that we haven't previously worked with: we're looking forward to that translating into some great digital projects
over 25% of Sheffield staff were involved - a testament to the enthusiasm of our new colleague Liz!
we had 11 sellout sessions, including practical introductions to LinkedIn and Twitter, and had to put on more of these, while continuing to avoid the T-bomb!
we trained colleagues in how to use Citizen Space and we like to think that spurred one of our colleagues to even more successfully shape the independent review of the sharing economy (a great example of digital activity that has been featured by Delib in a recent blog, and will feature in a forthcoming case study)
we made some great connections with our analytical colleagues running a popular session on consultation analysis, where I got to indulge myself in showing how not to design questions for a consultation
we officially launched our new Digital Buddy scheme, which now has 30 active staff involved helping colleagues to do digital
Where we could, we shared content from sessions on our Pinterest board - have a look to get a real flavour of what we got up to!

Digital buddies
When the idea of buddies was first put forward earlier this year, we thought that they would be an extra impetus to embed digital skills, and act as champions for digital. Buddies are sources of advice to nearby colleagues at those times when we (as a digital team) just didn't have time to be there. There's some great activity going on out there, and many individuals have gone well beyond what we might have expected of them, including:
a target for one directorate to have at least 50% of staff active on Twitter
one to ones with fellow team members
a prominent digital wall of fame in one team
involvement in our Autumn Statement listening project
We're definitely looking forward to seeing what they get up to in 2015, and we'll introduce blog readers to as many of the buddies as we can in the coming months.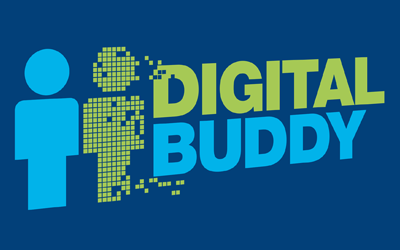 Digital advocates
While buddies are themselves active in digital spaces (and in some cases run blogs and Twitter accounts), we've also begun working with more senior staff to help them become more active online, and have been busy developing training plans to help them champion the use of more digital activity within their teams. The latter is crucial in breaking down some of the barriers for those more junior staff, and we're looking forward to developing this strand of work so much further in 2015.
Developing personas
I mentioned in yesterday's post that our day at the Department of Health had given us time to think about developing digital personas. We'll definitely be blogging on that work in 2015! But essentially, we've had the chance to think through different barriers to digital activity, and the different motivational tactics that we can use to help people become more active online.
Into 2015?
As we approach 2015, our evaluation of digital fortnight, and experiences with buddies, personas, and in training delivery, all point us towards gearing up our embedding efforts. We look forward to sharing what we get up to here and to get your feedback.
In the meantime, have a lovely Christmas and New Year break!
---
Stay up-to-date by signing up for email alerts from this blog.