As one of the newest team members, it was particularly exciting to see BIS in action for the launch of the Small Business Commitment and Small Business Saturday. I've just joined BIS as Deputy Director of Marketing, Insight and Evaluation and this was the first major launch I've been involved in here.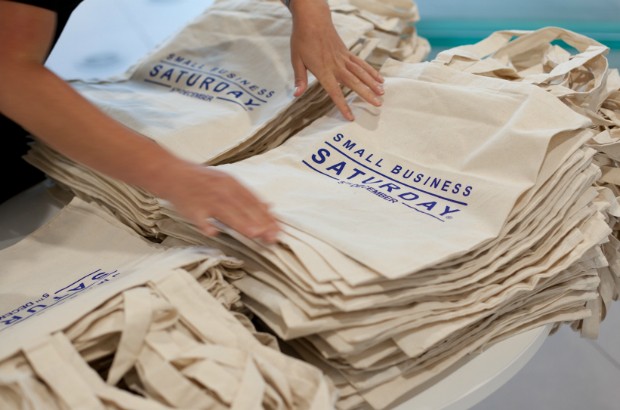 I recently joined Twitter (@judithporter123) and enjoyed getting involved with Small Business Saturday online as well as on my local high street.
In Kingston it was fantastic to see so many of my local shops on Park Road displaying posters showing their support for Small Business Saturday. I took the opportunity to find out how they'd got involved, their views about it and how else they thought Small Business Saturday could support them in the future. As a Marketeer I must caveat that my sample size of 5 does not constitute robust market research...just food for thought...
The first thing I noticed was that they were displaying A4 print-outs in black and white in their windows. 'Small Business Saturday' really stood out. But it wasn't clear what Small Business Saturday meant - from the point of view of what the businesses were offering or what the customers were being invited to do. I got the sense that the business owners weren't too worried about this. They seemed glad that someone out there was backing them, and pleased that the council had been round to give the posters out.
There was definitely a sense that Small Business Saturday was a good idea. Some had heard of initiatives going on in other parts of London - like free parking in Richmond and Ealing. They thought this was something that could help them as part of a future Small Business Saturday. The owner of a carpet shop, a family business, thought it would be good to have a week or month long event so he could run promotions. He also suggested that if his suppliers could get involved and give him a good margin for Small Business Saturday, he could then run a fantastic promotion during that time. Several of them mentioned that in general it could be better advertised and advertised earlier.
There was lots of positive feeling for Small Business Saturday. There was also feedback that suggests there's more we in government can do to get behind it and our small businesses next year. It's a good challenge for a new job.
---
Stay up-to-date by signing up for email alerts from this blog.