In March 2012, the Focus on Enforcement policy team, who are part of the Better Regulation Executive, within BIS launched the Focus on Enforcement initiative.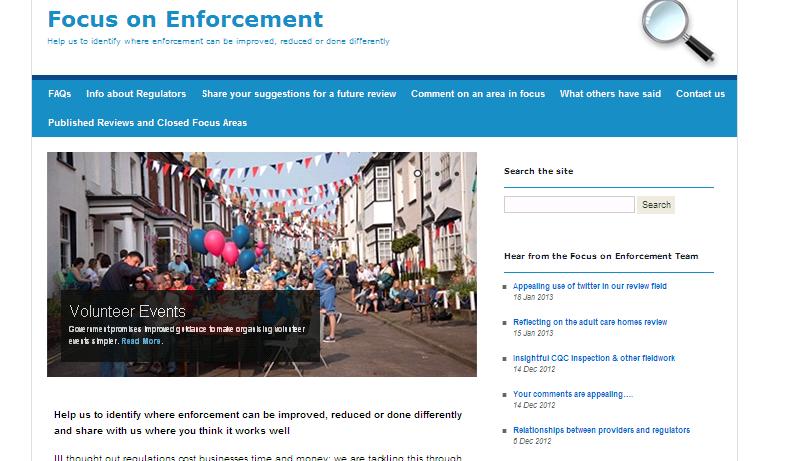 As part of this initiative, we have been undertaking a series of sector-focused reviews looking at the impact on the regulated of how regulations are enforced by national regulators (such as the Health and Safety Executive and the Environment Agency) and local authorities with a view to identifying improvements.
In order for us to get a sound evidence base on which to base our findings from the reviews, it's been crucial for us to hear directly from businesses and individuals so that we get a 'worm's eye' view of where enforcement can be improved, reduced or done differently, or, where it works really well so that other regulators can learn from it.
The FoE initiative has also been included as a digital by default case study in the BIS Digital Strategy.
How we went about it
We decided to develop a microsite where businesses could offer comments on their experiences of the enforcement of regulation and where we could publish data on regulators. Development of the site started in February 2012, when we created a bespoke site using the BIS WordPress platform. At this stage the site was in pilot form, but incorporated functionality to vote on the final name for the project.
Subsequently, a final version of the site, called Focus on Enforcement, replaced the pilot and was launched in March 2012.
The site has 3 main functions:
Businesses and individuals can use our website to offer a comment on a review that is in progress and 'in focus'. We consider all of the comments we receive and they form a key part of the evidence base for our findings.
They can use our embedded Ideascale platform (link through) to suggest ideas for future reviews – again, we consider all of the suggestions we receive when deciding which topics to review next.
We have also used the website to publish a wide variety of data about local and national regulators (link through to the relevant pages). Quite a challenge but really important as part of the government's transparency agenda!
We've made a number of additions and improvements to the site along the way, in order to enhance our digital engagement and the user experience. For example, we now have a project blog and a Twitter feed linked to our dedicated Focus on Enforcement account. We have noticed that these improvements have had a really positive impact in helping to maintain the volume of traffic to the website.
However, the digital element is only part of the whole process.  We have supplemented this online engagement with more 'traditional' engagement methods, such as face to face meetings.
Goals
Looking across to the Cabinet Office / Demsoc key goals for open policy, this project has 3 main objectives, namely to:
Draw on dispersed knowledge to  inform policy making;
Get detailed feedback within a  tight defined framework; and
Generate ideas for future reviews.
What worked well for us?
By using social media to publicise the reviews, we greatly increased our audience reach, (compared with our previous traditional consultation), securing responses from SMEs, individuals and front line enforcement officers as well as 'the usual suspects'.
We had a good quality of responses – more than 85% of responses obtained were significantly useful as evidence in our reviews.
Sustained promotion activity (particularly via social media) has helped to maintain the level of traffic to the website and keep responses coming in.
We receive responses in hours not months – which enables our review teams to identify issues and probe further in real time and, if necessary, take remedial action to keep interest levels up faster.
What has been more challenging?
Initially navigating the system to set up a website was not easy for policy officials without previous experience in this area.
Giving users the ability to make suggestions for future reviews has generated fewer responses than asking for comments on subjects under review.
Some topics have simply proved more popular than others!
What have we learnt?
Keep the questions focused and use plain English and appeal directly to what you believe to be your audiences' priorities.
Not everything  will work – you need to be prepared to change approach.
Anyone can learn  - (with a little help from the experts!).
A quick turnover in audiences means that there is often a limited amount of time to build up  relationships with each review's key online communities – so you need to plan in advance for this and move quickly.
Need to keep people engaged and have a clear feedback loop.
Not everyone will feel comfortable commenting publically (esp on sensitive issues) so need to allow people to comment / submit responses anonymously.
Digital is not the only answer but we have been amazed by its benefit - we were clear from the outset that the online review process would compliment, ratherthan replace, more traditional stakeholder engagement and interactions  with interested parties. We continue to think that this 'dual' approach has worked really well.
What has been the impact?
The burning question for us is how has social media and digital engagement impacted on policy development and broadened consultation? The headline message is that it has had a hugely positive impact. We think this is for 3 key reasons.
Firstly, it has enabled more open and transparent policy making.
Secondly, it has given us a much stronger evidence base; the comments received through our crowd sourcing and the speed of their receipt have genuinely influenced policy for the better.
Thirdly, using digital tools has significantly changed the nature of the responses and reviews for the better in that we have been able to hear from much wider audience than we would have otherwise been able to reach.
There have been very positive impacts on the team itself. We have significantly increased our digital skills and awareness, something which is a fundamental part of Civil Service Reform. For example, the team took responsibility for monitoring weekly stats for the website, tweeting and blogging, and some team members now have a specific digital engagement objective. We've learnt a lot along the way and even managed to convert digital engagement sceptics!
Perhaps most importantly for a policy team entering into this brave new world, we have had the support of our Senior Civil Servant colleagues and a good relationship with the central digital comms team who have really helped us to promote and embed this new way of working.
Digital Team Takeaway
a quick turnover of audiences presents an ongoing challenge in terms of both identifying and building relationships with online audiences
the requirement for businesses to comment on regulators with whom they might be likely to come into contact may have an impact on the conversion rates - so, while the team may have no problem in getting traffic to the site, it can be harder to translate that traffic into comments
---
Stay up-to-date by signing up for email alerts from this blog.