I seemed to be coining this phrase a lot last week, as I went to work with the Small Business Saturday (SBS) team.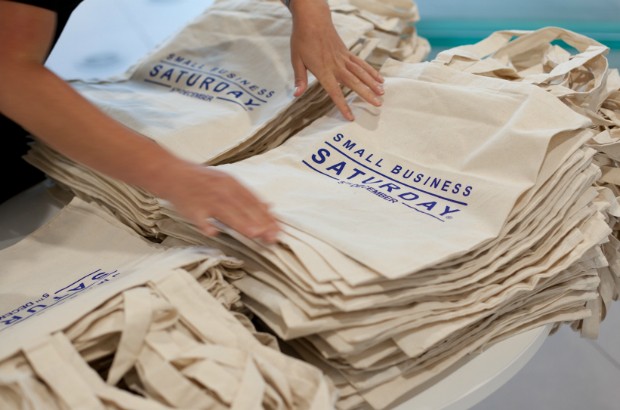 The campaign, designed to get everyone to do their shopping in small businesses in the build up to Christmas (and therefore beyond), is run by a very small team. Just 2 people run the campaign full time, so some of the BIS Digital team have been helping out in the weeks leading up to the big day, which happened on 6 December.
I was there to run the social media campaign for its final week. I was there to listen online to what people were saying about SBS, share articles, pictures and videos about SBS on social media, and give as much exposure as possible to local authorities who were supporting the day. There was a lot of chatter about Christmas markets and mulled wine!
It was a really generous campaign. By that I mean that nothing was too much trouble. If a small business tweeted us about how they were celebrating Small Business Saturday, we would retweet them. If they went to the trouble of emailing us with a video, we would post it. Simple. As a long standing civil servant, this was quite alien, but freeing, to me. I've been running government social media for so long that I have the word 'impartiality' running through me like a stick of rock, and a rather rigid approach to tweeting anything that involves commerciality, unless it's in partnership. I realise we have moved on from that now, but it was different all the same. I just had to keep telling myself 'this is not a government account'!
I used Vine for the first time. Vine is an app that you can use to record a six second video on your phone. Six seconds doesn't sound very long, but it was long enough to display some craft items from one of the businesses outside the tour bus in Camden, or get Daniel from The Apprentice to say that he was getting out to support SBS! It's really engaging on social media, because you don't need to click on the 'play button' to make the video play - it just plays from Twitter, Facebook, or wherever you may see it. It almost reaches out from the screen and makes you pay attention - a great tool to pull people in when there are so many tweets and so little time.
One thing that struck me was that there was no real office base for the team. Sure, they use office space in Somerset House, and I worked from there on the Tuesday (no, I didn't go skating!), but otherwise we were out and about, so any need for topping up your phone battery would come from a willing (independent) coffee shop. Though we often needed these places for sustenance and warmth. I tell you what - it was a good job I had my Small Business Saturday fleece - it was cold!
I learned a few things about myself too. Like, I can work in any environment, given the appropriate WiFi access (don't even bother in St Pancras station – use the British Library). I learned that I can digest enough information in a 20 minute briefing to fuel a week's work. I learned that I still have the energy and enthusiasm for face to face marketing (not bad after 5 years in digital comms). And I remembered that I can bring all my varied comms experience together while shivering out on the streets of Waterloo.
And to top it all off? Chris Evans dedicated his Friday show on Radio 2 to Small Business Saturday. I tweeted an SBS 'thank you' message to him from the comfort of my own bed, and it was retweeted over 100 times.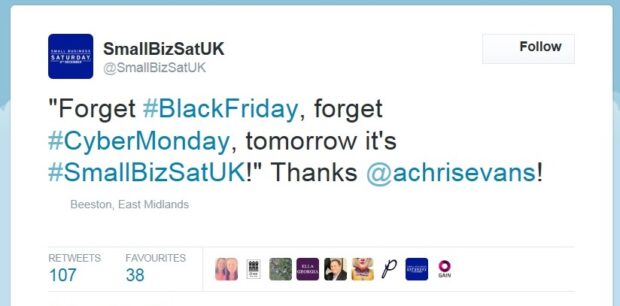 Strangely though, having promoted all our messages with the hashtag #SmallBizSatUK to differentiate it from the US campaign, #smallbusinesssaturday started trending on Friday afternoon. It goes to show that no matter how much you think a particular hashtag would work for your campaign, the public will decide!
I was new to BIS when I was offered this secondment, and I very nearly turned it down. Thank goodness I changed my mind. I could have missed out on a really worthwhile learning experience. It just goes to show that you should always grab these opportunities with both hands.
Liz Baldock
---
Stay up-to-date by signing up for email alerts from this blog.