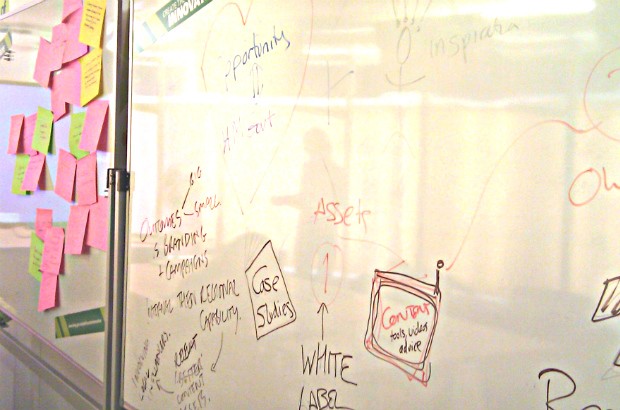 I don't know about you, but I hate having to work too hard online. I expect to quickly find answers via search, or I browse my preferred social networks or forums for advice.
Based on the sort of figures we see for people accessing BIS content, others behave the same. Really useful content or high profile news gets lots of views, because it always appears high in search. Stuff that simply gets published and is only available in one (corporate) place, suffers.
One of our most important audiences at BIS are small and growing businesses. The Department provides access to various support schemes, and has big priorities around growing business and the economy.
Our Business in You campaign has been running since January 2012. It's made up of some industry partnerships, above-the-line advertising, offline events, a website, email newsletters and social media activity.
It's an interesting project for the digital team, but particularly hard work in between bursts of advertising. As you would expect, traffic tails off dramatically, despite the fact that we are still busy creating and publishing content. In an age of conversations and relationships, this can be frustrating, not least of all for our audiences.
Lately we have been trying to solve some of this by identifying online spaces that are influential among people running small businesses, and using these to make best use of our content. Information about relevant influencers will always be useful to an organisation like BIS, regardless of the specific campaign, and it would also help us prioritise our efforts.
With some help from Max and Caz at NixonMcInnes, we short listed what we think are the top 100 most influential online spaces for small businesses. These are identified by audience and influencer type. We've made this public, in the hope that others reading this will review, update and make suggestions. A combination of PageRank, interviews and Google Analytics were used to create the list. Doubtless there are more scientific ways of doing this, but essentially we were looking for evidence of influence: size of audience, established conversations and quality of content.
From this list we approached 20 influencers and tested their interest in collaborating with BIS, by asking them if they would invite their audiences to share their business stories with us.
Eight of these 20 contacts published positive coverage of the campaign, 30 stories were shared on Facebook and Twitter channel, seven case studies were emailed to us, and a further ten influencers were identified.
This was great content for us, and broke the ice with some of our new-found contacts. We also started to get a feel for what could be achieved with a small group of influencers.
Since then we have been working on an individual basis with a variety of the organisations on the list . Typically our partnerships involve:
The benefits:
these are relationships that we can keep building on and utilising
we get to reuse content where we have already invested the time
people reach our content and advice through the spaces they are most comfortable with
we develop a better understanding of what these communities are looking for
we get to connect directly with our audience, or at least the people who influence them (many of whom are small business owners anyway)
The tricky bits:
time - this work may be relatively low cost but it takes a huge amount of time. Little and often (daily) is the key
a different way of working - influencers want to meet and call you when they are available, not to suit your diary. Fair enough
not all influencers want the same thing. In fact, they all want different things
it's tricky to evaluate the overall benefits in crunchy numbers. It feels like the right approach given peoples' changing behaviours online, but it doesn't necessarily generate an exciting spike in web traffic, or overnight recognition, compared with traditional online marketing
the influencers are not always who you think they should be. Important stakeholders offline may be notable by their absence online. It may be necessary to explain to colleagues how a list has been derived...and keep reassuring them
Next steps for us are to keep working with the influencers, and revisiting and updating the rest of the list.
We also need to make this a business-as-usual approach, instead of an add-on to digital. We will have an extra pair of hands dedicated to just this, starting soon. Just as importantly there is an ongoing sales job to be done, internally. No doubt this is the first of many stages to shift digital from geeky delivery function, to exciting combination of stakeholder/PR/press.
What I have really loved about this work so far, is the fact that it involves talking to people and creating content for their channels and their audiences, rather than building corporate channels.
It's been quite an eye opener, I think, for our marketing and policy teams. But it couldn't have happened without their buy-in.
We'll keep you posted on progress.
---
Stay up-to-date by signing up for email alerts from this blog.